Tenant Insurance – why is this important for you?
You will have saved for your deposit over a period of time, which will be protected until the end of the tenancy. It will either be returned to you in full or an agreed amount will be deducted for a variety of reasons. These include cleaning, damage to landlord's contents, fixtures and fittings and gardening.
Statistics from two of the deposit protection schemes show cleaning as the number one reason for claims against deposits followed by damage to landlord's contents fixtures and fittings. Cleaning issues can be resolved by arranging a professional clean at the end of the tenancy, but damage to property cannot always be avoided.
Accidents happen; it can take a second to cause damage to your landlord's property, which could cost you some or all of your deposit.
In addition to your landlord's property, your own contents are also at risk of theft, burglary, water damage, fire, and accidental damage. It is important to be aware that your landlord is not responsible for insuring your property.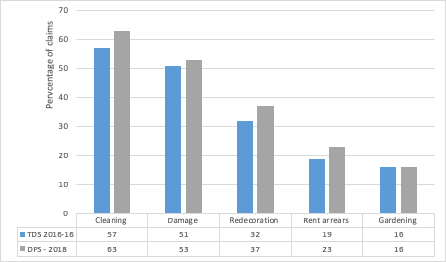 The annual premium to cover your contents and liabilities is a very cost effect option to protect against incidents that could occur. Perfect for Lettings can arrange insurance for tenant's liability from as little as £49.50 per year inclusive of 12% insurance premium tax based on a limit of £2,500 for landlords contents, fixtures and fittings.
The team at Perfect for Lettings will provide you with advice and can arrange cover over the telephone. Terms and conditions apply, which will be included within your personal quotation.
Claims examples
Sophie knocked a glass of red wine over her laptop and the lounge carpet whilst updating her social media. The laptop and the carpet needed replacing.
Sophie's letting agent had suggested she bought insurance cover for her liabilities as a tenant when she moved in her new home. She followed the advice, also insuring her own contents. The replacement values were £979 for the laptop and £550 for the carpet including fitting. Sophie made a claim for £1,529 less her policy excess. Sophie had her deposit returned to her in full at the end of the tenancy.
Paul arrived home after his holiday to discover that his home had been burgled. The family laptops, games consoles, television and other electronics had been taken.
He called his insurers to make the claim for the stolen items, amounting to a loss of £7,000. The insurer organised replacement items to be delivered to Paul's home. All Paul had to pay was the policy excess.
Ben dropped an item into the basin in the bathroom, causing a large crack. A replacement basin was required immediately as it was leaking and could have caused an injury to Ben and his family.
Ben had insurance in place for accidental damage to the landlord's contents, fixtures and fittings (tenant liability). He made a claim against his policy, and paid his excess. At the end of the tenancy, his deposit was returned to him in full.
Do you have a question for Perfect for Lettings?
Please email it to the team at hello@perfectforlettings.co.uk. 
Perfect for Lettings is a trading name of Saffron Insurance Services Ltd. Registered in England 829892. Authorised and regulated by the Financial Conduct Authority.  Registered office: 22 High Street, Saffron Walden, Essex CB10 1AX
Tags: Perfect For Lettings