Saffron Insurance partner with Cambridge United FC
Saffron Insurance become Cambridge United's official insurance partner.
Already supporting Cambridge United's 50/50 raffle ticket half-time draw Saffron are looking to offer the club and it supporters more. For every policy taken out with Saffron, we'll also make a donation to the club. As well money going to the club, you save £30 on your new insurance policy.
Sam Jeffery, Cambridge United Commercial Manager, commented: "This is a really good deal for the Club, and even more importantly, for the fans. It is genuinely the case that for every U's fan that switches to Saffron, the Club earns money. And that fan gains themselves £30 off their premium. 
"We're delighted to be partnering with Saffron Insurance and we hope that fans are able to get on board with this."
Fan of the Club?
To take advantage of the £30 discount and to give something back to Cambridge United FC. Simply:
Call on the dedicated number 01223 261270
Find out more http://www.saffroninsurance.co.uk/cufc 
*Terms and Conditions apply. 
Game of the season?
Saffron Insurance were in attendance at what has been billed as one of the games of the season. Goalkeeper Will Norris saved two injury-time penalties as nine-man Cambridge beat Accrington 2-1 in an astonishing finish in League Two.
It was over to the match day sponsors Saffron Insurance to pick the man of the match. Surely Tom Davdison and James Webb from Saffron only had one choice for the award? Read more here <link to> http://www.bbc.co.uk/sport/football/37531437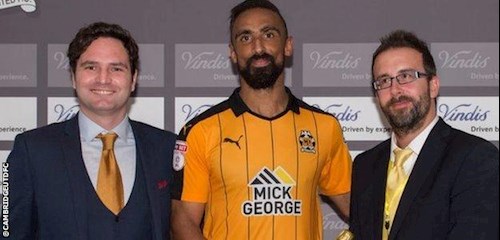 Tags: CUFC | Cambridge United FC | community