Carver Barracks Panto Trip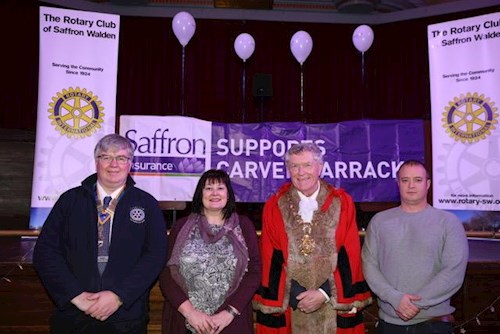 Over 250 children and family members of soldiers from Carver Barracks and Wethersfield headed to Cambridge Arts Theatre last weekend to visit the pantomime.
The trip, to see Jack and the Beanstalk, was funded and organized jointly by Saffron Insurance and the Rotary Club of Saffron Walden. Saffron Insurance and the Rotary Club have been working together to take families from Carver Barracks to the Christmas pantomime since 2013.
Managing director of Saffron Insurance David Beswick explained, "Our business is committed to supporting local communities across the East of England, from Cromer to Maldon and it is important to me and everyone at Saffron Insurance to give something back to the soldiers of Carver Barracks. This is the least we can do.
"Through our involvement in these events we've observed that, while a day out to most families isn't a big deal, to these families it becomes a cherished memory".
The families were joined at The Guildhall for afternoon tea by the Mayor of Saffron Walden, Councillor Richard Freeman.
Members of the Rotary Club of Saffron Walden were on hand at the event, to organise the coaches, to help serve the tea and make sure that everyone had a good time.
President of Saffron Walden Rotary Club, Ian Murphy commented, "It is a pleasure working with the team at Saffron Insurance, to organise this family day for children and their families at Carver Barracks and Wethersfield".
Tags: community fund